Summary:When working with screws, an Air Screwdriver is a useful tool. These tools are designed to be compact and have a low air consumption. Air screwdrivers
When working with screws, an Air Screwdriver is a useful tool. These tools are designed to be compact and have a low air consumption. Air screwdrivers come in various models and sizes. They can be adapted to the size of the screw (M4 to M10), and are available in positive jaw, ratcheting clutch, and cushion clutch designs. Listed below are some important features of an Air Screwdriver.
Positive jaw
A positive jaw on air screwdriver is designed for use in applications where driving torque is a significant factor, such as wood fastening. The maximum driving torque may exceed the final resting torque. These screwdrivers are designed for heavy-duty, reliable performance and can handle the most rigorous jobs. Positive jaw screwdrivers are available with various features, such as a grip-on handle or an adjustable clutch.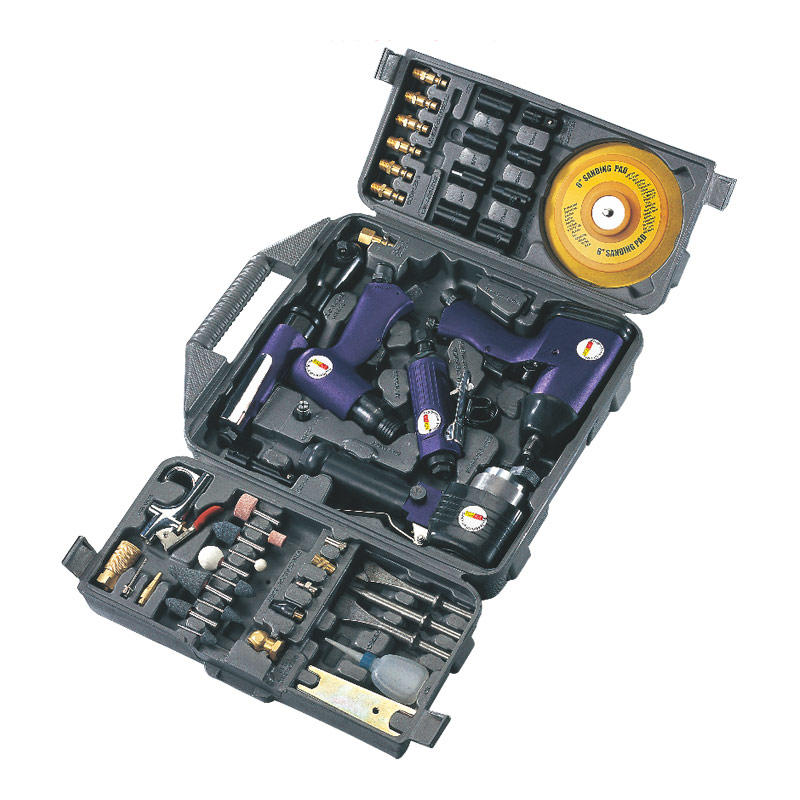 Ratcheting clutch
A ratcheting clutch with air screwdriver is an alternative to a direct drive screwdriver. A direct drive screwdriver has no clutch at all and relies on air pressure for torque control. However, it does not provide the precision of a positive jaw clutch. Instead, it relies on opposing jaws that rotate together as a single unit to increase driving torque. The opposing jaws separate when the torque of the fastener exceeds the motor's power, stopping further delivery of torque.
Compared to a lever-operated air screwdriver, a ratcheting clutch with air screwdriver has an internal regulating mechanism that keeps the tool running smoothly at full torque. The internal mechanism keeps the screwdriver air supply separate from the screwdriver's motor. This system also allows for maximum torque to be delivered to the fastener, while reducing operator fatigue and tool wear. It is also able to achieve a greater torque than a lever-operated ratcheting clutch screwdriver.
Cushion clutch
An air screwdriver that has a cushion clutch reduces the influence of the operator. They can be incredibly useful in applications requiring precise torque control. Whether you're assembling toys or electric power tools, a cushion clutch can make the job go faster. Cushion clutches are also ideal for wood hackers. The type of clutch used in the Chicago Pneumatic cushion clutch screwdriver provides precise torque delivery of up to 750 Free Speed RPM.
Cushion clutch pneumatic screwdrivers feature a thermoplastic ergonomic handle that provides comfort while working. They're also reversible, which makes them ideal for fastening and tapping applications. A cushion clutch screwdriver is also able to give you basic torque control so you can focus on the task at hand. A cushion clutch screwdriver is a must-have for any shop. But how does it work?
Compact design
When buying a new air screwdriver, you may want to take several things into consideration. The compact design should be easy to hold and comfortable to use. You may want to choose a tool with an impact clutch versus a cushion clutch for safety purposes. You may also want to choose a tool that is reversible via a lever or push button. You may also want to consider buying a multipurpose air screwdriver to fit a variety of needs.
If you are looking for a screwdriver that is compact enough to fit in a pocket, you can opt for a skinny screwdriver. These are designed for rugged industrial environments and offer extreme uptime and durability. A typical screwdriver will last millions of cycles. And a thin screwdriver is able to reach extreme torque accuracy thanks to a special clutch design. There is also a four-step torque regulator.
Easy to use
An easy to use air screwdriver can make assembling and disassembling a variety of projects much easier. They have several useful applications and are often designed with a fixed torque setting for general production work. There are also straight and angled air screwdrivers available for assembly in a wide variety of applications, from plastics and wooden construction to electronic and toy assembly. When purchasing one of these tools, it is important to consider the size of the bit you need.
A pneumatic air screwdriver can have an adjustable torque range. Some models offer only 1.5 foot pounds of torque, while others can reach as high as 22 foot-pounds of torque and turn as fast as 14,000 revolutions per minute. Whether you need a screwdriver with a small torque range or a large one, consider the torque range and the power source before buying. A good pneumatic screwdriver will come with a manual and follow instructions carefully to avoid accidental misuse.