Summary:The difference between HVLP and compressed air spray guns lies in the type of paintbrush you purchase. High-volume spray guns use higher air volume, w
The difference between HVLP and compressed air spray guns lies in the type of paintbrush you purchase. High-volume spray guns use higher air volume, which means more paint will be transferred onto the part. These guns also produce less material waste, which means fewer trips to the hardware store. On the other hand, low-pressure guns are ideal for small projects, and a narrow nozzle is best for filling cracks and tight spots. To select the right Spray Gun for your needs, check the manufacturer's instructions and the warranty information.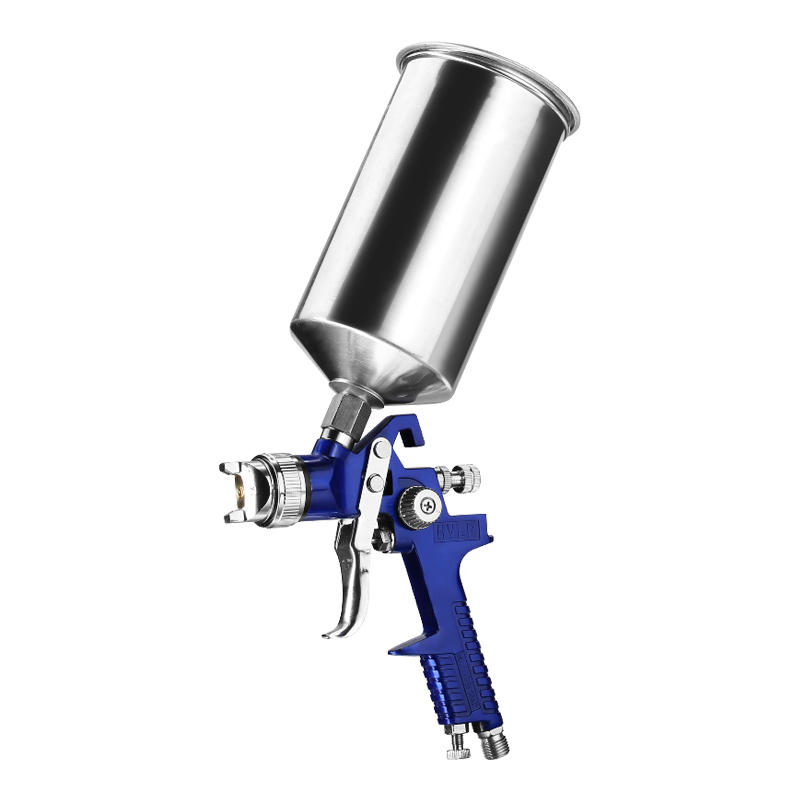 If you want to paint cabinets, an HVLP gun is the best choice. The HVLP setting allows you to paint cabinets and other small surfaces, and the adjustable nozzle makes it easy to clean the surrounding furniture. If you need to paint a large area, a HVLP gun will take longer than an airless gun. It won't work well with thick latex paint. It will be best suited for thinned latex or oil-based paints.
HVLP spray guns are also suitable for professional painting. They provide controlled spray with minimal overspray. These guns can be used with or without an air compressor. HVLP spray guns are more expensive than LVLP spray guns, but are perfect for beginners. LVLP spray guns are less expensive and use less air than HVLP guns. They are also suitable for small areas. If you want to use a high-volume spray gun, you can also try a low-volume one.
While choosing a spray gun, keep in mind its features and function. For instance, a spray gun with a 1.8mm tip is best for applying primer. It should be equipped with an air cap. Make sure to re-set it after every use because humidity and temperature can impact the performance of the gun. In addition to a spray gun's performance, its nozzle must be clean. A clean airhead is essential to the quality of the paint it produces.
An electrostatic spray gun is another option for coating surfaces. This type of spray gun is highly efficient and can coat the back of a target object. It is difficult to use for coating internal corners because of the Faraday cage effect. On the other hand, it can also apply thick layers of coating. It is environmentally friendly and offers excellent transfer efficiency. If you have a high-voltage generator, you should definitely consider purchasing an electrostatic spray gun.
While a gravity feed paint gun has a cup on the bottom, conventional feed paint guns can also be used for coating surfaces. Both types have their advantages and disadvantages. The former requires less air pressure and is easier to use for beginners. If you're looking for an easy-to-use and efficient paint gun, consider purchasing one from a reputable manufacturer. It's well worth the investment. You'll find the right one for your needs. There are dozens of brands out there, so you're sure to find one that fits your needs.
A paint-spray gun uses compressed air to atomize fluid at the tip of its nozzle. There are separate passages for the air and fluid. When they mix, the paint becomes a fine mist. A spray gun can also spray a wide variety of surfaces. In general, a paint-spray gun will cover any type of surface. These guns are available as hand-held guns, automated, and have interchangeable nozzles.
A paint sprayer is adjustable, allowing you to control the thickness of the paint coat, spray pattern, and more. Many models can also be attached to a garden hose for easy water flushing. The type of spray gun you choose depends on how much paint you want to apply and where you plan to use it. A backpack paint sprayer is the most convenient, while a cart-style spray gun on wheels can be used for a variety of tasks.
A paint sprayer can be used for both large and small projects. High-quality spray paint will last for years and give a quality finish to any project. While paint sprayers are convenient, they cannot replace brushes completely. Touch-ups and small projects still need to be done. So, if you're looking for a quality spray gun, you should invest in a high-quality model. And remember to practice with old clothes when starting your new hobby.